Since 2007, National Close the Gap Day has brought Australians together to advocate for health equity and take meaningful action to improve health outcomes for Aboriginal and Torres Strait Islander people.
Aboriginal women screen for breast cancer less than non-Aboriginal women and have a higher risk of dying from breast cancer. At BreastScreen Victoria, we are committed to bringing breast screening to more Aboriginal women. We know we can achieve better outcomes when Aboriginal women have a genuine say in the design and delivery of services that affect them. That's why we teamed up with the Victorian Aboriginal Community Controlled Health Organisation (VACCHO) and Aboriginal Community Controlled Health Organisations sites (ACCOs) to understand why fewer Aboriginal women were accessing free, life-saving breast screening and find solutions together.
In 2018, we developed the Aboriginal Breast Screening Shawl Trial. The shawls were made for Aboriginal women to wear during their breast screening to improve their experience with breast screening. Other objectives were to support Aboriginal women to screen together as a group and increase the BreastScreen Victoria staff's cultural competence.
The trial was a huge success and won a 2019 VicHealth Award in 'Improving health equity'. Since then, it was renamed the Beautiful Shawl Project, and the shawls have been used state-wide as part of BreastScreen Victoria's Mobile Screening Service. That year, we visited eight ACCOs) and we have added more locations every year. There are now 18 ACCOs involved and over 500 Aboriginal women have screened.
Local artists design all the artwork for the shawls. Here is a look at some new ones and what their artists have to say about them.
Healing by Amanda Morgan, GunaiKurnai
"The women in the circles are the ones who have breast cancer. The stars in the circles represent the loved ones and their ancestors who have also been affected and gone before us. The women sitting around the circles come in to support and get their breasts checked. The footprints represent all women coming together to get checked as well."
Hunting on country by Eileen Gordon (Aunty Lana), GunaiKurnai/Wiradjuri/Yuin & Bidawal country
"This painting represents traditional hunting and the kangaroo is divided into parts that show what you can eat, skin, fur, etc."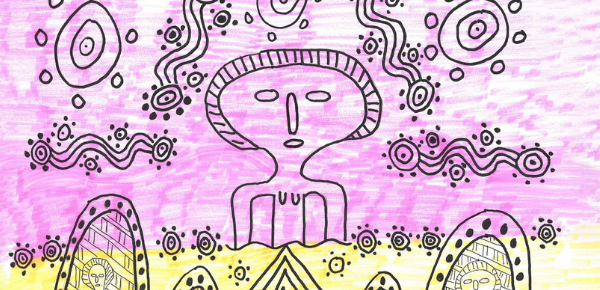 We are one by Marilyn Fenton, Gunai Kurnai
"Breast screening is important to me and also necessary for my daughters and granddaughters when they get older. Breast screening is for all the women in our community, and we support them through whatever they are going through. I'm so happy I had my breast screen after all the years I didn't have it."
The Beautiful Shawl Project was captured in a heart-warming, 12-minute documentary filmed on Country and featured the reactions and feelings of Communities, staff, and clients.