NAIDOC Week celebrates the history, culture, and achievements of Aboriginal and Torres Strait Islander peoples.
At BreastScreen Victoria, we're committed to achieving health equality for Aboriginal people. We know that including Aboriginal community participation and control around health service delivery is essential to bringing breast screening to more Aboriginal women. That's why we partnered with the Victorian Aboriginal Community Controlled Health Organisation (VACCHO) and the Victorian Aboriginal Health Service (VAHS) in 2018 to develop the Aboriginal Breast Screening Shawl Trial.
The shawl, designed by respected Wiradjuri and Yorta Yorta artist Lynette Briggs, was made for Aboriginal women to wear during their breast screen. They aim to improve Aboriginal women's experience with breast screening and support Aboriginal women to screen together. The project also worked to increase the cultural competence of BreastScreen Victoria staff. The trial's success led us to roll it out across Victoria and it being renamed to The Beautiful Shawl Project. The shawls have been used state-wide as part of BreastScreen Victoria's Mobile Screening Service, which now visits Aboriginal Community Controlled Health Organisations sites (ACCOs) across the state.
All the shawls have been designed by local Aboriginal artists. Here's a look at some of them.
Titta to Titta by Yorta Yorta artist Kylie Taylor for Horsham
"The artwork 'Titta to Titta' was inspired by the land surrounding the Wimmera," Kylie said. "The colours represent my favourite places I regularly visit. Pink is for Pink Lake. Blue is for open sky. Yellow is for desert sands. The birds represent freedom." 
Strong Connections by Gunditjmara and Wotjobaluk artist Tanisha Lovett for Halls Gap
"Women sit side by side with no shame of getting their breast screens completed," Tanisha said. "In the middle of the artwork is the symbol of a meeting place. On each side of the artwork are different mobs and their connections."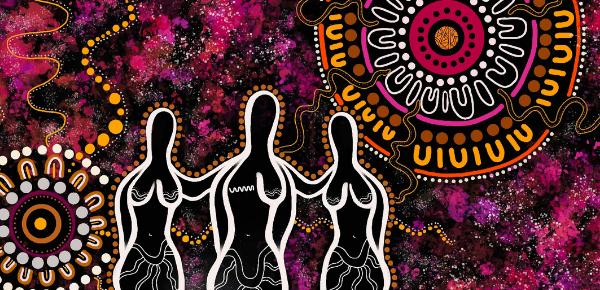 Winyarr Malka by Yorta Yorta, Wemba Wemba, Mutti Mutti and Wiradjuri artist Alkina Edwards for Echuca
Winyarr Malka, meaning 'Woman Shield'. "The design represents the strength and support given to women who are affected by breast cancer," Alkina said in a statement. "As you can see, we have two women putting their hands on the shoulders of the middle woman. This symbolises giving strength and empowerment to the fighters, survivors and honouring the women who have lost their lives. The symbols in the background represent family, friends and community support."
Women's Journey Together by Wadawurrung and Gunditjmara artist Trina Dalton-Oogjes for Bendigo
"The water at the base of the artwork is to represent the sea or the rivers, as women come together from other communities, as the footprints travel across the land," Trina said in a statement. "The seven sisters shine bright in the sky, and the centre shows all the women holding hands in support of a shared journey for breast screens."
Women's Dance by Wotjibolik, Taungurung, Muthi Muthi, Yorta Yorta, Wiradjuri, and Wemba Wemba woman Sandra Kropdinyeri for Swan Hill
In a statement about her artwork, Sandra explains that it represents the tradition of sharing stories through dance. The women are shown dancing together while individually telling their own stories, and there are different dances for the stories of their lives.
Connection by Wemba Wemba, Barkindji and Wiradjuri woman Tahlia Wise for Kerang
Tahlia explains her artwork is a story that shows we're all connected and we're always going to be connected to the land, and to the animals, in spirit. No matter how much time changes or how much we change, we will always be here.
Protecting Me by Latji Latji woman Veronica Harradine for Robinvale
Veronica says the artwork is designed for Aboriginal women during the breast screening process when they may have feelings of vulnerability. "The central figure is a woman who is embracing and protecting other women, providing a feeling of comfort and security."
Embrace by Barkindji woman Simone Spencer for Mildura
Simone created her artwork to represent the beautiful figure of Aboriginal women. "The cross-hatching lines show her deep connection to culture with her breasts accentuated to encourage women not to have shame or embarrassment when it comes to breast health, and that it is all natural and beautiful."
The Beautiful Shawl Project was captured in a heart-warming, 12-minute documentary filmed on Country and featured the reactions and feelings of Communities, staff, and clients.
To learn more about NAIDOC Week and find out how you can get involved, visit naidoc.org.au.