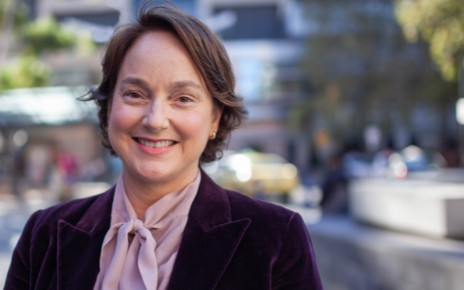 When Dr Helen Frazer was a little girl, she was interested in life sciences, and became fascinated by machines that could see inside the human body. Last week, Dr Frazer won Innovator of the Year, the top accolade at the Women in AI Australia and New Zealand Awards 2022. She also won the Health category.
Women in AI (WAI) honours women working in Artificial Intelligence (AI).
"I wasn't expecting it at all," Dr Frazer said. "There was an incredible bunch of women there doing amazing work in the AI field, not only in health but across many other industries. So, I was just completely surprised but delighted as well."
Dr Frazer, a radiologist, breast cancer clinician and Clinical Director at St Vincent's Hospital Melbourne and BreastScreen Victoria, leads the Breast Cancer AI Project (BRAIx). This ground-breaking Australian study aims to transform breast cancer screening with AI. A vital component is developing AI algorithms to detect breast cancer in mammographic images.
"We are now working in real-world scenarios to see how well an algorithm can determine if cancer is present on the image," Dr Frazer said. "That's a screening population with a very low prevalence of breast cancer compared to a cancer-enriched training set. The algorithm is performing very strongly. It's early days, and there are some big challenges, but it's really exciting. There is so much promise to transform breast cancer screening with artificial intelligence and improve health care."
AI may also improve breast cancer prediction models and allow a more tailored screening approach that meets an individual woman's need. Currently, breast screening is recommended every two years.
"We hope to improve prediction models that will enable us to personalise screening according to individual risk. I think women would like to see their journeys personalised and tailored towards their uniqueness," Dr Frazer said.
People remain at the centre of this work. Dr Frazer acknowledges that AI is disruptive, but these technological advances are not about machines operating independently.
"We still need radiologists," Dr Frazer said. "Much of our work in screen reading is pattern recognition. Artificial intelligence can help speed that up so we can do more complex work. AI can also help us address workforce shortages."
Dr Frazer's research includes the ethical, legal and social implications as BRAIx seeks to deliver more personalised and accurate results more quickly and reduce the burden on radiologists, clients, and the health care system.
BRAIx is jointly developed by St Vincent's Hospital Melbourne, St Vincent's Institute of Medical Research, BreastScreen Victoria, the University of Melbourne and the Australian Institute of Machine Learning at the University of Adelaide, in partnership with the Aikenhead Centre for Medical Discovery (ACMD).
BreastScreen Victoria congratulates Dr Frazer for her double win at the 2022 Women in AI Awards Australia and New Zealand.